Facebook's Singular Focus Could Indicate Trouble Brewing on the Horizon for the Social Media Mega-Giant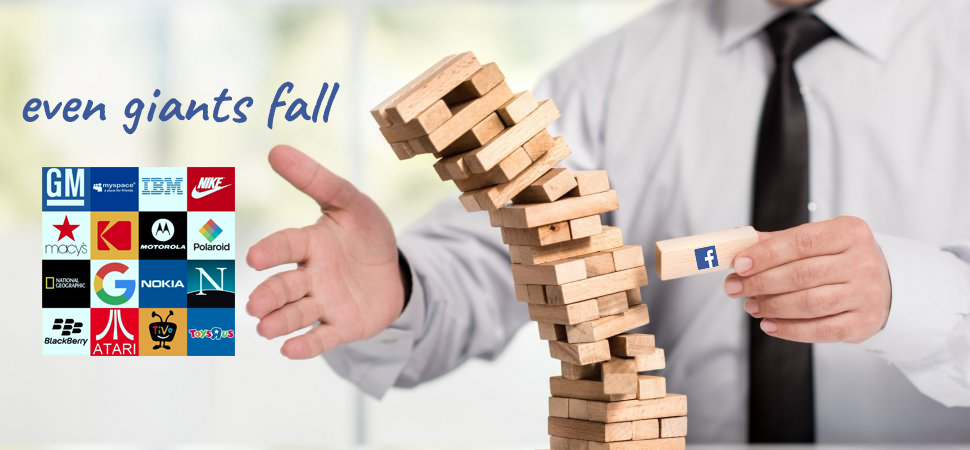 Take a look around. What do you see? Let's focus on the biggest companies in the world for now (not your desk or chair or office mates). There's Google, BMW, Lego Group, Canon, Walmart, Apple and Microsoft, and McDonald's, just to name a few. These mega-corporations are so massive it's hard to even imagine them filing for bankruptcy and no longer being around, right?
That's been the case for generations.
In fact, in the US alone there are numerous examples of major companies that at one time seemed impenetrable, undefeatable, impervious to any outside forces or competition.
Oldsmobile was a famous car brand established in 1897, but in April 2004 the company closed its doors for good. Borders Books & Music was founded in 1971 and at its peak was a direct competitor to Barnes & Noble. After 40 years in business, the company petered out and its direct competitor acquired all its trademarks and customer lists. The Finnish tech company Nokia, which at one time manufactured the "must-have" mobile phone on the market with its patented two-way radio quick-talk feature, is about to be completely phased out after Microsoft acquired it.
Throughout many countries there are stories of major companies that seemed too big to fail and ultimately did. Poor management, changing times, and even innovative technologies are just some of the many reasons mega-corporations fail.
Facebook is one of the giants of the tech industry.
Make no mistake about it, Facebook is one of the largest tech companies in the world. They are large enough to go toe-to-toe with Google, Microsoft, and Apple, and with well over 1 billion regular users posting and reading posts from friends on its platform, it appears as though nothing could bring it down.
But appearances can be deceiving.
That's one of the many things people can glean by checking out the history of other big companies that are nothing but memories now. Just because a company might appear "too big to fail", too focused on success, that doesn't mean it won't falter.
Facebook has a singular focus, as many companies do: maximize profits. Before a company goes public (meaning, it can be traded on the stock market), it is controlled either by its president or CEO and other key founders and executives.
Once a company goes public, though, it has to answer to shareholders, a board of directors, and a host of others who have a vested interest in the company. The primary focus for shareholders is rarely about how it treats its customers, employees, the environment, or anything else; it's usually about making as much money as possible.
In the years since Facebook went public there has been little to indicate trouble brewing for the giant of social media. However, in light of data breaches, censorship claims, political division in the United States and abroad, and several other factors, the scrutiny being placed on it is growing.
It's undoing, though, may be hinted at from internal structures.
Not from outside.
When Facebook acquired WhatsApp in 2014 for what, at the time, was deemed to be an incredible sum given the advertising limitations on this smaller chat app, some experts and insight specialist speculated what Facebook may have in mind for WhatsApp in the future.
WhatsApp cofounder Brian Acton helped establish this Silicon Valley company to provide users an ad free platform and end-to-end encryption technologies. The entire purpose of WhatsApp was to help users avoid the growing challenges, frustrations, and potential breaches of confidentiality being hinted at through other social media platforms, namely Facebook.
However, because of the significant amount of money being thrown around ($22 billion) when Facebook made its offer, Brian Acton admits he got caught up in the hype and failed to take measures that would protect the service he and his partner Jan Koum built.
Brian Acton stayed on after the acquisition, but decided to walk away early because of his frustrations. He also walked away from $850 million in stock options rather than stay. He saw signs of what Facebook really meant to do with WhatsApp and no one there was listening to his cautioning and concerns.
Just shy of $1 billion was left 'on the table' and when he called it quits, and as he walked away he Tweeted out, "It is time. #deletefacebook."
He gave no explanation at the time, but in a recent Forbes magazine interview, he noted, "It was like, okay, well, you want to do these things I don't want to do. It's better if I get out of your way. And I did."
What will this mean for WhatsApp and Facebook?
Those are key questions people need to focus on, but it's what Brian Acton also mentioned during his interview with Forbes that could be key to what may play out in the future. He was working for Yahoo out of college and earned millions of dollars from the fledgling startup in the 1990s.
However, he became disgruntled by their practice of ad placement all over websites, congesting and clogging up the content, making it not just unappealing, but problematic for users. His contention was that the focus on profits was taking precedent over the user experience and no one was listening.
So, he decided to leave.
Where is Yahoo today?
Facebook's founder Mark Zuckerberg has been described as being narrowminded, singularly focused, and driven to an unhealthy degree and extreme for success. With so much pressure to produce results for stockholders around the world, that can certainly make sense, but even though they acquired WhatsApp and made all sorts of promises to its founders, Brian Acton noticed early on they had no intention of keeping them.
Mr. Acton also lamented about some information he was instructed to provide to the European Competition Commission (ECC), admitting he told regulators that it would be 'really difficult to merge or blend data between the two systems' (referring to Facebook and WhatsApp) when in fact that's exactly were Facebook was intending to go all along.
Within 18 months of that statement, the two accounts were linked, but approval by the ECC had already gone through, which is exactly what Facebook may have been intending all along, agreeing to pay a $122 million fine for providing "incorrect and misleading information," but after the fact. (Once a platform is in place, it's exceedingly difficult to remove it.)